The past is a fascinating place to look back on. The clothes we wore, the music we listened to, and even the buildings we lived in were all so different than what they are now. Lets take a look at 50 pictures from the past that show just how much it has changed over time!
A Lawnmower for the Future
Looking like something out of a science fiction book, this lawnmower boasted a built-in air conditioner under a clear dome while you rode around trimming your grass. It was a marvel of the time and, even though it hasn't survived to see modern day, it shows off the innovation that people had back in the 1950's. Inventions like this showed off how much people wanted to have comfort while doing their weekly chores. Sure, lawnmowers don't have air conditioners nowadays, but the style of the mower is reminiscent of some of the riding mowers that are on the market today.
A Star and His Grumpy Cat
Everyone knows who Freddy Mercury is, whether they're a fan of Queen or not, but the small kitten in his arms is a face not many know. While the personal life of many stars were kept secret, pictures that are discovered after a few decades can show a surprising side to them. Freddy and his cat, Tiffany, posed for this picture in 1988, giving us a more relaxed look at the star we know. Even though years have passed, cats making faces in photographs seem to be as funny back then as they are now. I'm sure Tiffany loved being around Freddy, but it doesn't seem she likes posing.
Not Your Average Storm
In 1966, a massive snowstorm hit the Eastern side of the Rocky Mountains. Nearly 200 people lost their lives, about thirty of those people perishing from exposure. While snowstorms aren't uncommon, the fact that this one dumped feet of snow onto unsuspecting towns and cities showed that this one was more dangerous than the rest. In this photo, it's clear as to how high the snow got in some places. Just seeing the tops of the telephone poles peeking out of the packed piles of snow and even having a fully grown man walking on it seems almost unreal.
A Tight Fit
Fads and trends that involve a group of people doing something that's a bit odd seem a lot more prevalent in this day in age. However, this photo from 1959 shows that there were stunts that people were willing to perform in order to garner their names in history. A group of students from Durban in South Africa decided to see how many people they could fit into a phone booth. The group wanted to get into the Guinness Book of World Records for their stunt and, with 25 people shoved into the booth, they had their record. Of course, the news spread and 'phone stuffing' became a popular challenge all around the world. Just as quickly as it came about, it was gone, but no one had been able to beat the South African record.
If Looks Could Kill
Not everyone who has their photograph taken wants it to be taken. In this case, the subject of the photo is more perturbed at the person who is taking his photo. The man, Joseph Goebbels, was one of the many people present at the League of Nations conference in 1933. He was also in charge of propaganda for the Third Reich party, which meant that he had a distaste for different types of people. The person taking the photograph, Alfred Eisenstaedt, was a Jewish man. The look on Joseph's face is after Alfred revealed this fact to him; the hatred in his stare is almost palpable.
The First Ever Photograph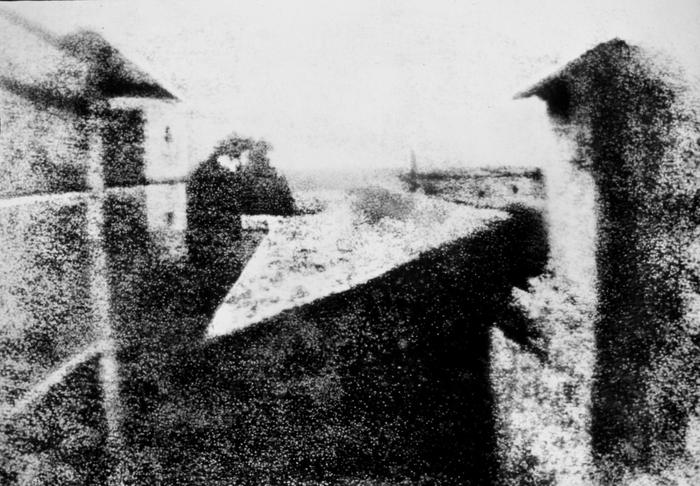 It's amazing how quickly technology has advanced over the past three hundred years. Many of the things we take for granted today weren't even thought to be possible in the early 1800's. There were scientists and innovators that did what they could to create something new from the technology they had available. In 1826, Joseph Nicéphore Niépce created what can be considered the first photograph. Since film hadn't been developed yet, Niépce developed this creation by removing the areas of a non-hardened asphalt from a pewter plate. From there, the plate was exposed to sunlight for eight hours to get the picture you see above.
One Way to Keep a Baby Still
Photography was a popular medium once a process was developed. There was a drawback that those that were being photographed needed to stay still for a longer period of time so that the photo didn't come out as blurry or fuzzy. When adults had their photos taken, it wasn't much of an issue, but when babies were taken for their photos, things could get a bit rough. It took time, but photographers found an easy way to make sure that young children and babies could stay still for long enough to have their picture taken; they'd have the children's mothers hold them. As you can see from the photo, this baby has an extra long frock to hide his or her mother's feet.
But She Persisted
The 20th century provided much more rights to those who weren't white men, but it took those who had courage to stand up and protest to get those rights. In 1967, Kathrine Switzer signed up to take part in The Boston Marathon. Women weren't allowed to take part in the race and, when it was clear that Katherine wasn't going to drop out, one of the race's officials attempted to take matters into his own hands. During the marathon, he attempted to rip Katherine's number off of her sweatshirt. Katherine's boyfriend, who was also a part of the race, was able to stop the official and Katherine was able to finish the race.
An Eccentric Man and his Eccentric Pet
Pictured here is famous Spanish painter, Salvador Dali, taking his beloved pet out for a walk. Of course, Dali was known for his eccentric paintings, so it's no surprise to see him out and about with a less than conventional pet. The anteater he kept on a leash seemed to be the talk of the crowd that gathered by him in 1969. Seeing an anteater in Paris is probably a first for most of them, especially with a dapperly dressed gentleman with a can holding the leash.
One of the World's Most Famous Lions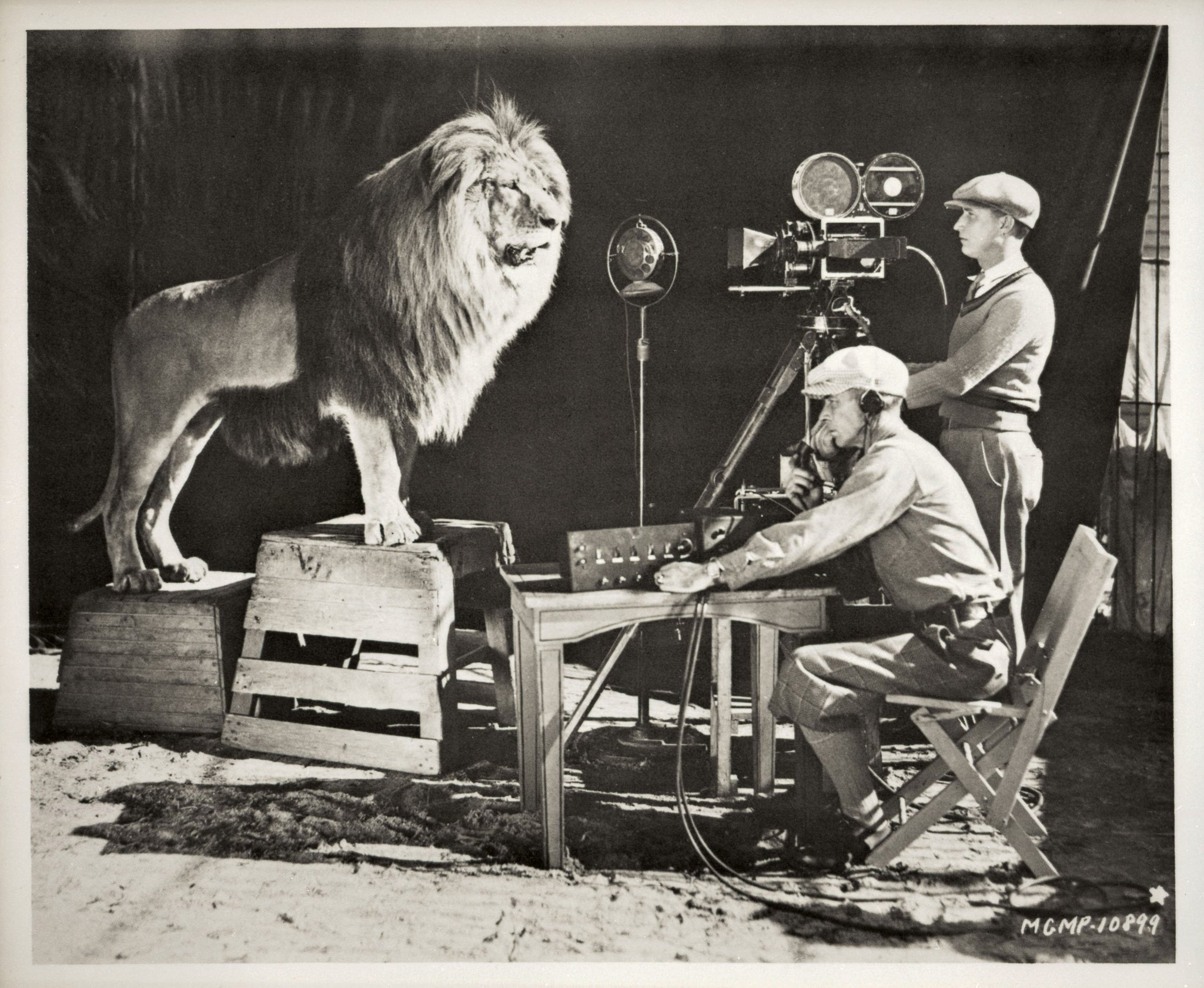 It's not hard to believe that the logo for MGM's movies was performed by a real lion. The lion pictured is Jackie, a wild Nubian lion that the studio decided to record. They wanted not just the roar of the lion, but a scene of the big cat roaring as well. There were several lions that the studio recorded, but most of them had their sound stage built in their cages like Jackie had. This allowed the film team to record both sound and picture without trying to bring the lion outside of its area. Of course, the team members in the cage were probably doing their best not to run and hide from the full sized lion in front of them.
Separation in a Nation
The separation of Germany after WWII was something that caused strife within the country mere months after it was torn from the grip of the Nazi regime. East and West Germany was split artificially by the use of walls and barbed wire fences, with only a few entrances that were heavily guarded by soldiers. Unfortunately, when the border was put in place, families that had been separated due to the war or for just regular travelling were stuck on their respective sides of the country and couldn't get over without the proper papers. Here, a German soldier risks his life to get a young child through the barbed wire in order to find their family.
A Woman in Uniform
There's a trend with thinking back on early 1900s fashion that has many people envisioning more modest clothing for women and men, regardless of profession. This photo from 1959 shows that this is not the case, as the woman on the right is modelling her airline's newest uniforms for flight attendants. SAS Airlines broke out the uniform for their female attendants and it's amazing just how different they are in comparison to modern airlines' uniforms. The uniforms of a flight attendant can sometimes be glamorous, but there might be some that feel that this uniform crosses a few lines.
A Day at the Races
This photograph is of a hilarious trend from back in the 1940s and 1950s known as baby racing. The National Institute of Diaper Services would host a Diaper Derby for babies that were still in nappies. The race would include a goal of a stuffed toy at the finish line that the children would crawl towards. Of course, as is most cases with babies, the races ended up being unpredictable and hilarious. Babies would go out of their lanes, follow other contestants around, go in the opposite direction on the track, or even fall asleep on the track.
The Last Laugh
At first glance, this photograph looks like two men just standing in the snow. And then you see that the one on the left has a gun held up to the one on the right's head. This photo was taken in 1942 in Rukajärvi, Finland. The man on the right is a Soviet spy, laughing just before he is executed. This photo was originally sealed with multiple others, in fear that they would be used by the Soviet Union for propaganda. This photo was released in 2006, along with a few others, in order for people around the world to see a hidden side to history.
Posture for Success
The three women in this photo, taken in 1956, are all standing next to x-rays of themselves. This was taken during a chiropractor convention that showed how posture affects how you stand and how well you're able to balance. Each of these women were asked to stand on two scales with one foot on each, then have their x-rays taken to see how their posture was. These three women took the top spots, as their x-rays show. Even with their trophies, all of them are poise with a straight back and perfectly balanced stances.
Not a Regular Zoo
The way that WWII affected men and women all over the world is something that has been discussed and documented for years. However, it wasn't just the humans that were driven away from their homes and families. This photo, taken outside of Berlin in 1945, shows a shoebill bird, one of the largest birds in the world, being fed by a woman that converted her bathroom into a shelter. The bird was thought to have made its way out of the Berlin Zoo during the chaos and found itself in a residential area.
A Call Before Bedtime
Cellphones are still considered a newer invention that wasn't even a thought to those back in the 1970s and 1980s. So, instead of teenagers having cellphones handy to call their parents, pay phones or communal phones were common. In this photo, a group of girls in a dormitory in 1970 are gathered around the communal phones in order to call home and let their families know that they're doing alright. Each of the girls seem either excited to get to use the phone or are glad to hear a loved one's voice on the other end of the line.
Mummies Ready for Sale
In modern times, the only way you'd be able to see a mummy is during an exhibit at a museum. Shortly after Napoleon conquered Egypt, the artifacts and burial sites of the region became available to the people in Europe. Artifacts were transported to the continent, where Europeans would buy them to display. Mummies were one of these artifacts that were sold, as seen in the photo, and people at the time would have 'unwrapping parties' to show off their purchase. The demand for mummies was so high that many people in Egypt began to sell pieces of flesh from beggars or thieves and pass it off as mummified flesh.
The Face of a Terrorist
In 1970, a family from the Middle East went on vacation in Sweden and snapped this colored photo to commemorate it. However, one of the boys in the picture, the second from the right in the green shirt, is someone the world would grow to fear in the decades after. This boy is a young Osama Bin Laden. It's fascinating how someone who looks so happy and innocent can grow up to be one of the most notorious terrorists of the 21st century. Was this photo a glimpse into the life of a young boy that hadn't been twisted by violent ideals or had those thoughts already taken hold?
Candy Rush
Because of the hardships brought on by WWII, many foods and staples were rationed out in order to make sure that there was enough for everyone, until trade with other regions started up again. In England, one of the main rations that people faced was a limit on sugar. People tried to develop recipes that relied on other sweeteners or just a small amount of sugar so that they'd be able to make it to their next ration without running out. In 1953, the rationing of sugar was lifted and the effect was instantaneous. Candy stores saw their sales quadruple over the year, which isn't hard to see why from the picture of both kids and adults alike running in.
White Clad Ladies
If ever there was a picture that showed the dichotomy of fashion during the 1960s and the religious vestige of the time, this is it. A young woman is walking towards the camera with purpose, probably not noticing the nuns that are watching her pass. There's a stereotype that nuns are harsh and don't suffer those who don't dress modestly, but these nuns show a different side. They're all grinning, admiring the girl's fashion as she heads out from the street. It goes to show how differently certain types of dress were treated during that time.
A Horse or a Tank?
Weighing over three tons, Brooklyn Supreme is considered one of the largest horses to have existed in the modern age. Just looking at this stallion's size in comparison to the man beside him is comical; especially the way the man is looking into the camera, as though even he can't believe he's near such a creature. Brooklyn Supreme was a popular attraction around the country. His owners would take him from city to city, charging ten cents in order for people to take a look at their gigantic horse. Visitors to the attraction marvelled at the horse's size and one of them snapped this photo in the 1930s
Atop a Pyramid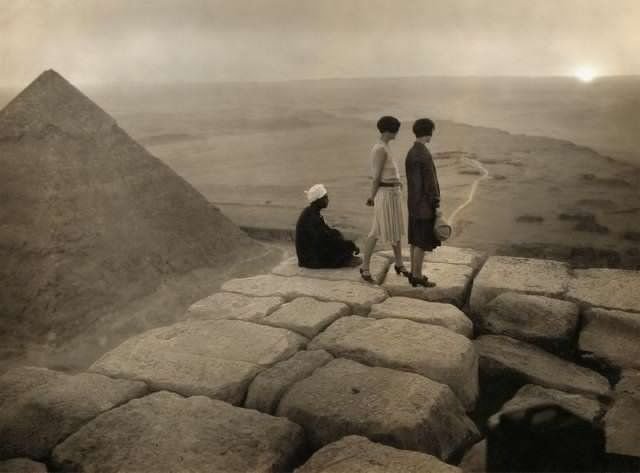 Cairo, Egypt is still a common tourist destination today, but it looks quite different from the Cairo that is seen in this 1920s photo. People can no longer climb on the pyramids in Giza, so seeing three people atop the pyramid, gazing out at the desert, is quite a rare sight. The Sahara desert can be seen, along with the Nile flowing just before the horizon. Unlike today, where the area is bustling with tourists and attractions, this picture shows a much calmer and peaceful look at the surrounding areas, without the hustle and bustle.
Swim Lessons
It's common for parents to make sure that their children know how to swim. While it's mostly utilized today for swimming in pools or taking a dip in the ocean, many countries that are surrounded by water require their children to know how to swim. This picture from the 1920s shows children in England taking swimming lessons. Swimming pools were not considered necessities at school, so to simulate how the children should float, they would be paired up and have another student lay on the ground while another lay across their backs. This helped to simulate buoyancy, since just having the children laying flat on the ground wouldn't help them understand how their bodies would be positioned.
The First Diving Suit
Looking like a steampunk version of a diving suit, Harry L. Bowdoin's submarine armor was developed in 1914. He hoped to patent it and sell it to those that were looking to be able to travel outside of a submarine when in the ocean, but his idea wasn't very popular at the time. The way that the suit is styled does show that he understood what would be necessary if a person wanted to travel underwater, even if it didn't have exactly what can be found in diving suits today. Still, it probably inspired other inventors to try their hand at an underwater suit.
Tophats and Rifles
In preparation for Hitler's forces attempting invasion in England, many countries worked to make sure that everyone was prepared to defend themselves and their home. Bomb shelters were built to ensure that people were safe from air attacks and the Navy was on high alert for any ships that attempted to land on British soil. While England had its own forces training, they did require young men to start training for war as soon as they came of age. This photo was taken at Eton college during a drill, the young men dressed in their Sunday best as they marched with their rifles.
Feeding the Wildlife
This photo from the 1950s shows Soviet soldiers stationed near the Arctic Ocean. Because of Russia's proximity to more desolate areas of harsh cold, the Soviet Union worked to manage several bases that existed in these conditions. With the cold came snowstorms and harsh winds, but also brought some of the wildlife out of the woodwork. In the photo, two polar bears are ready to get a treat of meat from a Soviet soldier. Apparently, polar bears were common around the bases, as they were often fed by the soldiers who were stationed there.
Links of the Titanic
This photo from 1910 shows just how massive the S.S. Titanic was compared to the people it would house. The chain pictured is the beginning of the anchor chain. Hingley's Anchor Works was tasked to create the massive anchor and chain that would allow the Titanic to remain at a port. The chain for the anchor needed to be 603 meters long, so the members of the company needed to make the chain link by link so that they didn't go over or under the length. With just three links of the chain about the size of the man on the right, it's amazing that such a gigantic creation was developed.
Watch Your Feet!
Cities that are close to rivers and lakes are always at risk for flooding. In 1924, the river Seine in France overflowed into the streets of Paris. Although the roads weren't used much for automobiles, people still needed to get from one end to the other. The water was cold and as the flooding worsened, the people of the city tried to come up with a solution that would allow them to make it down the roads without getting too wet. In the end, thanks to some helpful neighbors, lines of chairs were stationed on the streets. In this photo, you can see how the citizens of Paris were able to walk without touching the water.
The Face of Freedom
After WWII, thousands of people were displaced from their homes and searched for other countries to live in. The United States opened its borders to those who needed a new home and this picture, taken in 1946, shows a group of people seeing the Statue of Liberty for the first time. Those that are pictured in this photo aren't just refugees from the war; some of them are Jewish surviors of the Holocaust, finally able to have peace after years of saddness and strife. The Statue of Liberty symbolized a new start and gave these men and women hope that things were going to get better.
The Tallest in the City
Seeming to loom over a cloudy New York City, the Empire State Building towers over the rest of the buildings in the area. When this photo was taken in 1941, construction had finished on this marvel of architecture and it became an instant tourist attraction for anyone inside or outside of the city. At the time, the Empire State Building was the tallest building in New York and was the only skyscraper in the United States. Of course, the skyline of New York City has changed drastically since then, but it's a marvel to see this lone building standing amongst the miniature houses.
The Doctors of 1885
The three women pictured here were masters of medicine in their time. Women in medicine isn't a new concept, as shown with the three doctors shown. All three are women of color, hailing from different areas of the world, and all showed their mettle in the world of medicine. What makes this picture so poignant is that all three are dressed in their traditional clothing, not any Westernized fashion. These three women wanted to show the world who they were and where they were from.
33. Reaching New Heights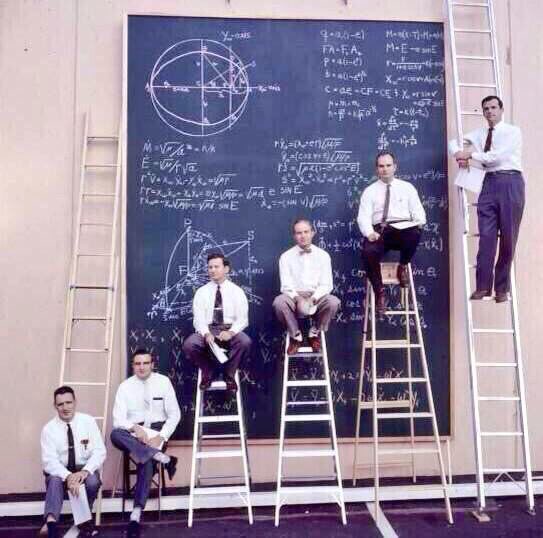 While computers weren't very common in the 1960s, the scientists at NASA were expected to write out their work on chalkboards scattered throughout the campus. Their goal at the time was simple: they needed to win the space race against the Soviet Union. With only their minds and a piece of chalk, they began to work on tests of aerodynamics, physics of being in space, and how to get a rocket to land without causing the men inside any injuries. The men pictured here were working through a large equation that needed a bit more space than they were tall enough to reach, so several different sized ladders and stools were used to help them utilize all of the blackboard space they could.
34. Don't Turn Around
Tornadoes and cyclones are forces of nature that cannot be stopped. The best way to survive a cyclone is to get as far away from it as possible. In 1989, a massive cyclone ripped its way through a town and surrounding areas. Unlike others that were already heading out of harm's way, this woman seemed to want to get a picture of the huge, whirling cylinder of dust and grit. Even though it seems far away, the fact that the woman's hair looks windswept hints that it could be closer to her than she thought.
35. "The Woman who Gave the Macintosh a Smile"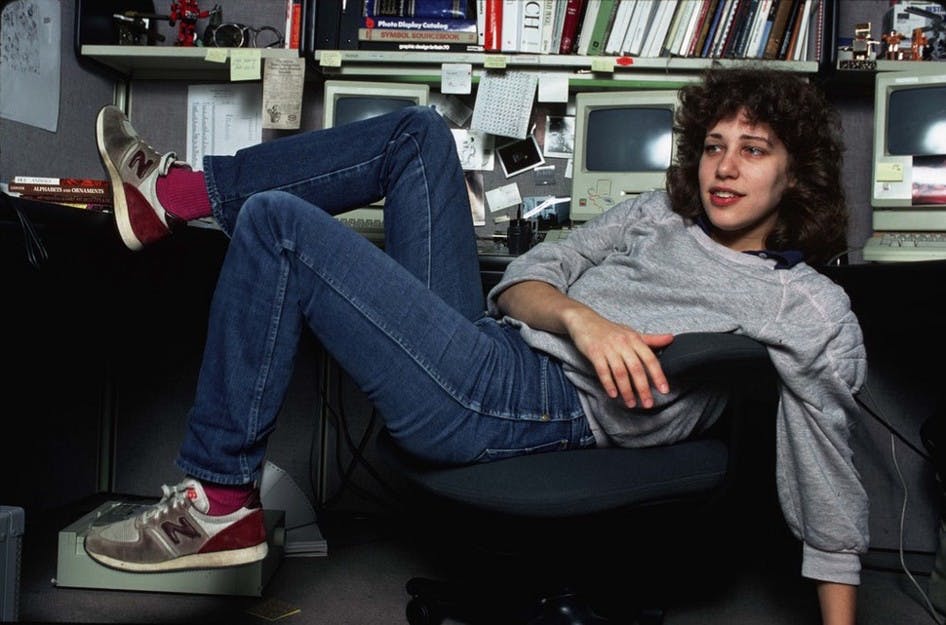 The woman in this photo looks relaxed and carefree. However, she is one of the brightest minds in the world and brought innovation to a medium that was still being developed. Susan Kare worked with Apple and Macintosh as a graphic designer. She is responsible for coming up with the ideas for utilizing multiple fonts for writing, creating icons for the desktop, and even designing the graphics in the games loaded onto the computer. If you ever spent your days playing Solitaire on a Microsoft Windows computer, you have Susan to thank for the card designs.
36. The Living Chessboard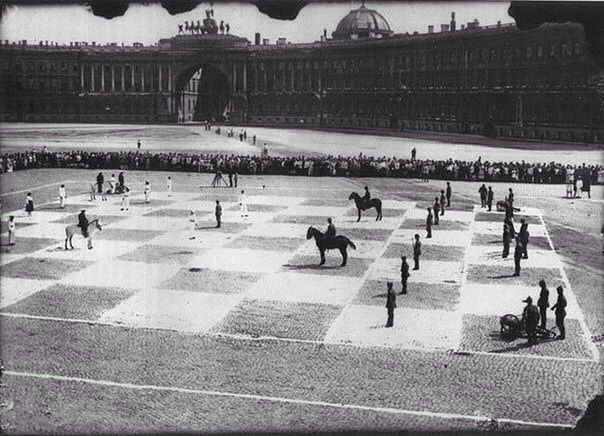 Chess is a common pastime and shows a person's strategic thinking as they play to take the other player's king. This picture from St. Petersburg Square in the 1920s shows a different way of playing the game. Two Russian grandmasters would be on each side of the square, giving their moves via telephones. The 'pieces' were played by real soldiers: the Red Army on one side and the Soviet Navy on the other. The men who were knights rode on real horses and those who were rooks had small cannons they could move around. From the looks of the crowd around the square, it was a sight to behold.
37. A Mother's Shame
This photo is one that the subject cannot show their face. This was taken during the aftermath of WWII and shows the hardships that families needed to overcome in order to survive. This mother was unable to feed her family, so in order to receive money and lessen the amount of people she needed to feed, she advertised that her children were up for sale. She's also pregnant in the photo and, as some sources claim, she was able to sell all of them, including the newborn baby, over the course of two years.
38. A Different Type of Uniform
During the liberation of Rome in 1944, many neighboring countries sent their soldiers into Italy in order to drive Hitler's forces out. It didn't take long for the Nazi troops to leave the city and the people of Rome celebrated by having the soldiers parade down the streets and throwing flowers in their wake. This photo shows an Italian woman who seems very curious about the uniforms that the Scottish soldiers are wearing. Kilts were common in Scotland, both as part of the people's heritage and used as formalwear. Kilts usually had a particular pattern that designated the family the wearer came from. For these soldiers, the kilt is just another piece of their uniforms.
39. A Fascinating Discovery
It's always with a look of wonder and joy that people approach something new and exciting. In the case of this photo, a young boy is seeing a television playing for the first time. Televisions weren't common household items in 1948, so they were relegated to storefronts and newsstands. The closest thing that families would have to entertainment devices in their houses would have been radios, which are a far cry from actually seeing something acted out on a screen. The boy seems absolutely mesmerized by the moving pictures on the screen, which probably weren't things he thought were possible.
40. Happiness within the Wreckage
The woman in her wedding dress is smiling happily, a bridesmaid peeking out the window and the father of the bride right behind her. Just this description would be enough to make one think that it was just a normal day for a wedding, but the picture tells a far different story. This photo was taken in November of 1940 in London, a site of frequent bombings during WWII. Despite all of the destruction around her, the bride looks ready to be married and looks more than happy walking out of her home. Even in such dark times, there were still events such as this that provided peace to those involved.
41. A Large Amount of Data
The fact that it's taking several men to push the IBM processor into a truck shows just how much data is stored in it. At the time, this was the only way to store bits of data; the hard drives and computers in 1956 were large and cumbersome. Because of how scarce computers and drives were, many places had to lease the computers out. This hard drive, which stored up to 5 MB of data, was leased out for about three-thousand dollars. In contrast, 5 MB of storage can be used today on any smartphone to take a short video or store up to six pictures.
42. Aftermath of the Battle
The boys in this photo look absolutely beat up, but it wasn't from any fist fight. Every year at Princeton College, the freshman and sophomore classes held a snowball fight. This photo is from 1863, which makes it clear that snowball fights were always the sport of choice if there was snow on the ground at school. Unfortunately, history doesn't seem to tell us why this particular photo was taken. Could it have been for something else that the boys just happened to have the same day as the snowball fight? No matter what the case, just by looking at the swelling on the boys' faces, it doesn't look like they were shown any mercy.
43. The Beginning of a Master
This photo was taken back in 1986. The young man, who looks to be in the middle of chopping up greens to serve with the fish on his left, is Anthony Bourdain, a well known celebrity chef. He's cooking up a meal in his New York apartment, before his rise to fame with his shows and his writing. The look on his face could be construed in many ways, but it seems that he'd very much like the person taking pictures to get out of his kitchen until he's ready for a photo op.
44. A Familiar Face
Contrary to popular belief, 'selfies' were not something that didn't occur before the early 2000s. It was difficult for people to take pictures of themselves because they didn't have a way to see if they were even in the camera shot before taking a photo. Of course, this is solved with something that everyone has in their homes: mirrors. In this photo, a young Frank Sinatra took a picture of himself in 1938. It's not the most glamorous shot, probably having been taken in the man's bathroom, but still having a picture of yourself taking a picture was, at the time, pretty neat.
45. Ready to Serve
This photo looks quite normal, but for the time, it was something no one thought possible. The woman pictured is Saundra Brown, the first African American woman on the Oakland police force. Here, she's being trained on how to handle a shotgun. She served for seven years, starting in 1970, but even after her time on the force, she seemed to have a knack for the justice system. Saundra became the deputy district attorney of Alameda County a few years later, then moved further up to become the Senior Judge of the United States District Court for the Northern District of California.
46. "The Man who Invented the 20th Century"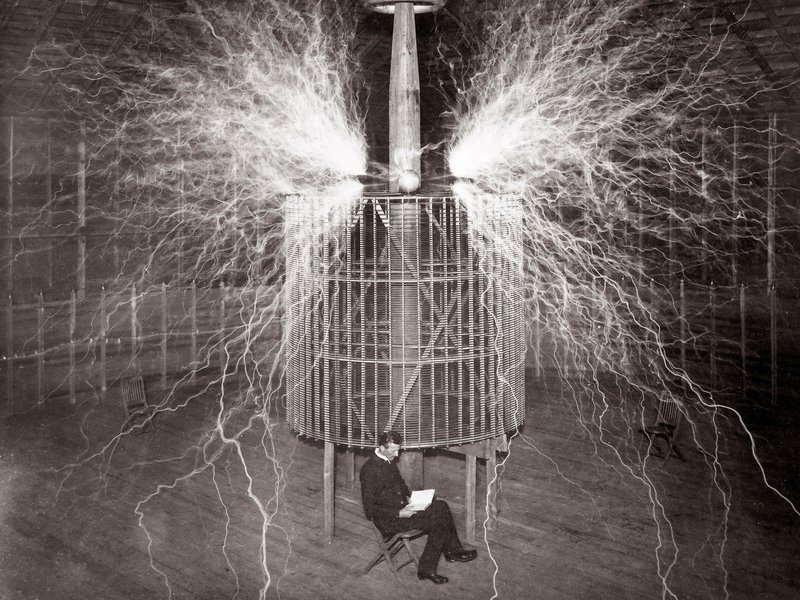 Sitting in a chair, surrounded by electricity, Nikola Tesla seems very calm and collected in this photo, despite the danger that surrounds him. He was one of the most innovative scientists and inventors, creating things that still impact our lives today. Unfortunately, many of his inventions didn't have his name credited to them, due to others working with his patents for their own inventions. Known for being a bit eccentric, Tesla was all for bringing new discoveries into the world. Unfortunately, because he didn't keep many of his patents, he passed away without a penny to his name.
47. Fashion on the Track
The usual style of hair for those that are competing in sports are usually shorter hairstyles or having your hair pulled back into a ponytail or with a headband. These ladies from the 1960s show that you can run track and field with some very styled hair. It just goes to show how different athletes now look compared to the other athletes of yesteryear. To be honest, with the amount of hairspray it takes to achieve such a height, they probably don't have much to worry about in terms of a hair falling out of place.
48. Michael Jackson in the Year 2000
No, that's not a 'What If?' photo you're looking at. In 1985, Ebony magazine ran an article that depicted some of the world's brightest African American stars and what they would look like in the year 2000. The picture of Micheal Jackson is most certainly not accurate, due to the superstar's skin disorder and alleged surgeries, but the photo was accompanied by a prediction that his stardom would increase, along with his fanbase. It's not remiss to say they were right in that regard, as Micheal Jackson is still considered one of the greatest pop icons of the 20th century.
49. Night Fishing
This photo depicts a Hawaiian fisherman in the 1940s getting ready to start a night of spearfishing. While the modern spearfishers have spearguns to hunt and flashlights to attract the fish, this fisherman had to rely on a torch worn on his body to bring sleepy fish out to spear. The torch was made out of kukui nuts wrapped in leaves and set ablaze. If there was a need for more light, the fisherman would light kukui nuts in a piece of bamboo and utilize it as a flashlight to bring fish out. While not the most modern way of fishing, spearfishers still brought in a good haul night after night with their techniques.
50. An Undisturbed Seal
The early 1900's was a time of great archeological discoveries. The Valley of the Kings in Egypt was an ideal spot for scientists and archeologists to start looking for a way to see what others were like in the past. With their digging, many tombs and areas that had been undisturbed for thousands of years were unearthed. One such place is pictured here, the sealed tomb of Tutankhamen. With only primitive tools, the ancient Egyptians created a special seal for the former pharaoh's tomb with rope and clay. When the tomb was opened on February 17, 1923, it was believed that the tomb had sat undisturbed for close to 3,245 years.